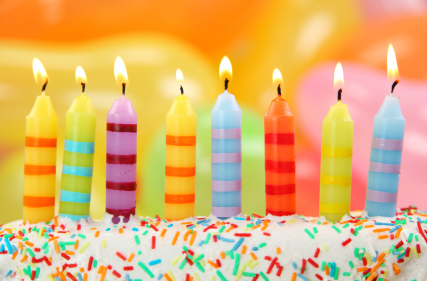 I was talking to a friend who is turning the big 5-0.  She was considering a half-marathon to celebrate.
I am not a runner so this didn't have any appeal to me, but I thought, "How cool to make such a great goal and memory to commemorate a birthday."
Instead of sitting on her lazy boy and eating chips, my friend is thinking of training to run…and run…and run.  To push her body to do something she did years ago.  Is it possible to get stronger as you get older?
I think the answer is yes.
When I turned 40 last year, I wore a blue wig and wore my cheerleading outfit from high school.  I worked hard to fit into that outfit.  Sure, the skirt didn't exactly zip up all the way but I made it work.  I am more health conscious today than I was at 18.
Have you ever done anything special to mark a birthday?  To turn back the hands of time?
When it's time to celebrate a big birthday, why not do something athletic, different, silly, or childlike?
Create that birthday milestone and look forward to the passing of time.  Growing older is a part of God's plan for us.