What a blast I had at Family Life Today!  Here I am with hosts Dennis Rainey and Bob Lepine.  These men are down to earth, full of wisdom, and very funny!  If you've ever listened to Car Talk, these guys can go back and forth with each other like Click and Clack!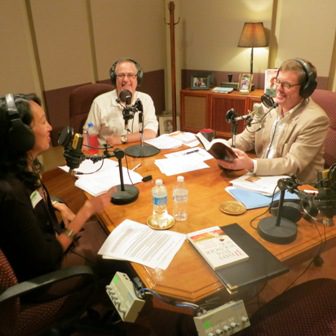 See, they like what I am saying about the book 31 Days to a Happy Husband! 
We talked about what the letters DREAM stand for in my book:
Domestic Tranquility
Respect
Eros
Attraction
Mutual Activities
Dennis asked me many questions like, "What does James think about that?"  so you'll be hearing a lot about my own marriage during the radio program.  James and I were in the hot seat today! 
My interview is scheduled to air in September and I will be sure to keep you posted.  I am so grateful for the opportunity to partner with FamilyLife Today to strengthen families – what an honor to be here today!
And then I got some icing on the cake.  The Lord encouraged me to keep at it in writing when I passed by the Little Rock Airport bookstore and saw my title 31 Days to a Younger You on the shelf!   What a sweet last image as I prepare to fly out.