A special welcome to my Proverbs 31 friends!  (you can read my devotion from today here)
Do you want to discover how to connect with others moms through prayer?
Praying for your kids is one of the best things you can do yourself…and with other women.
Maybe you've desired to pray with other moms for your children, but you just haven't found anyone to pray with yet.
Meet Moms in Prayer!
Moms in Prayer has a simple and awesome vision to cover every school in the world with prayer.  Just two praying moms for each school can make all the difference in the world.
When my son Ethan was in first grade, I joined my first Moms in Prayer group which was hosted at my church.  The first time I heard other women lifting up my son Ethan by name, praying protection over him, praying God would use him – wow!  I was so touched!
Now Ethan is entering high school and I host a Moms in Prayer group in my home.  I can honestly say praying with other moms through the years has given me peace instead of anxiety, confidence instead of fear.
There is something powerful that happens in the spiritual realm when moms get together simply to pray.  To entreat a loving Heavenly Father to intervene in the lives of our sons and daughters.
God is with us in this journey of motherhood.  Parenting without prayer is like living in black and white.  We can live in full color when we call upon the Holy Spirit to guide, teach, and protect our families from evil.
We live in a broken world.  Our children have many unsavory paths to choose from.  The phones in their pockets can lead them into pornography, bullying, addictions – wasting God-given time on meaningless distractions.
It is time for moms and grandmas to pray powerfully.  You don't have to be consumed by worry, feeling defeated as a mom.  Instead you can have a holy confidence and a humble dependence on God.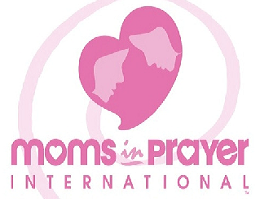 The next step for the good of your family may be joining a Moms in Prayer group near your home.  Who knows?  The mom you run into at school during pick up and drop off may be your prayer partner, just waiting to find you!